Voltron (Voltron Force)
Talk

0
326pages on
this wiki
Voltron is the mighty "Defender of the Universe." Composed of five robot lions piloted by the Voltron Force, Voltron has the power to defeat the toughest opponents. Its construction is steeped in ancient mystery, and even today the Voltron Force is finding out new and previously unknown capabilities.
Voltron Force (TV series)
Edit
Voltron was impounded by Wade, the Voltron Force got the lions back, etc.
Alternate Configurations
Edit
Traditionally, Black Lion always formed the center and head of Voltron, with the other lions forming the limbs.
Vince
's strange abilities have unlocked alternate configurations, allowing the other lions to be the center, with each configuration granting Voltron new special abilities.
Black Center
Edit
The traditional configuration: Black Lion is the center, and Voltron wields his classic Blazing Sword.
Red Center
Edit
When Red Lion forms the head, Voltron is armed with Magma Pistols. Red Center may also be more resistant to extremely high temperatures.
Yellow Center
Edit
Yellow-center configuration gives Voltron a set of Rock Wrecking Maces, which can extend to be used as a kind of grappling hook. Voltron can also deploy wings to gather solar energy to recharge or power up.
Blue Center
Edit
When Blue Lion is the center, Voltron weilds the the double-sided Titanic Trident, which has freeze ray capabilities.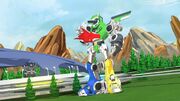 Green Center
Edit
The last center-configuration to be discovered, Green-center Voltron wields the Boomerang Shield and allows Voltron to block Haggarium attacks.
References
Edit