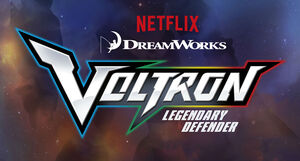 Netflix and DreamWorks Animation (DWA) have announced a new original animated Voltron series to debut in 2016 as an expansion of their existing multi-year agreement.
The official logo was released on February 8, 2016,[1] while the entire first season was released on June 10, 2016[2]. The second season was released on January 20, 2017. The third season was apparently scheduled to air a total of 13 episodes in September 2017.[3] The date was later moved to August 4, 2017.[4]
Characters
Defenders of the Universe
Paladins
The pilots of Voltron, also known as the Paladins:[5]
Alteans
The last survivors of Planet Altea:
Princess Allura (voiced by Kimberly Brooks) - Princess of Altea and commander / pilot of the Castle of Lions
Coran (voiced by Rhys Darby) - Allura's royal advisor and operator/mechanic of the Castle of Lions
King Alfor (voiced by Keith Ferguson) - Allura's father and previous king of Altea, responsible for sending the lions to the far corners of the universe for protection, who died in the Altean Genocide
Galra Empire
Emperor Zarkon (voiced by Neil Kaplan) - Leader of the forces of Galra and conquerer of most of the known universe.
Prince Lotor (only mentioned)
Witch Haggar (voiced by Cree Summer) - Head of the Druids, a group of witches in the service of Zarkon who gather the quintessence as a power source and create the robeasts to fight Voltron.
Commander Sendak (voiced by Jake Eberle) - A Galran commander tasked with capturing or destroying the lions along with Allura's castle. He is the first major enemy fought by the Paladins.

Haxus - Sendak's second-in-command
Voltron
Episodes
Notes
In an interview, Tim Hedrick, Voltrons story editor, was asked "...Will we be seeing any LGBT content in Voltron?" to which he responded, "I think I'll let that play out as we go. No comment on that question."[6]
References
Ad blocker interference detected!
Wikia is a free-to-use site that makes money from advertising. We have a modified experience for viewers using ad blockers

Wikia is not accessible if you've made further modifications. Remove the custom ad blocker rule(s) and the page will load as expected.