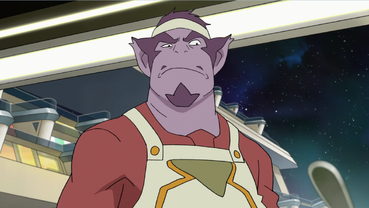 Sal is the Galra proprietor of Vrepit Sal's, a food venue at the Unilu Space Mall.
After Hunk ate all his food samples, he is made to work off the tab and earns a mass following of customers with his gourmet skills. When Hunk was forced to flee by Varkon the mall cop, Sal swears to search the entire galaxy to get him back.
Gallery
Ad blocker interference detected!
Wikia is a free-to-use site that makes money from advertising. We have a modified experience for viewers using ad blockers

Wikia is not accessible if you've made further modifications. Remove the custom ad blocker rule(s) and the page will load as expected.