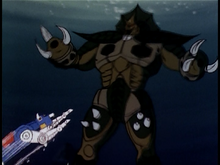 The Heavy Deathsail Clawbeast was an aquatic Robeast used by Haggar in the episode of Voltron: Defender of the Universe titled "The Witch Gets a Facelift".
Voltron: Defender of the Universe cartoon continuity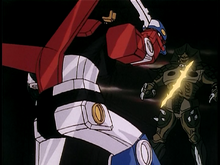 The Heavy Deathsail Clawbeast emerged from underground near Blue Lion Lake at the behest of Haggar the Witch. Capable of fighting equally-well on land or underwater, it dominated the Lions and put up a terrific fight against the fully-formed Voltron before at last succumbing to two full strokes from the Blazing Sword.
Ad blocker interference detected!
Wikia is a free-to-use site that makes money from advertising. We have a modified experience for viewers using ad blockers

Wikia is not accessible if you've made further modifications. Remove the custom ad blocker rule(s) and the page will load as expected.