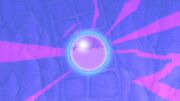 Haggarium is a new type of dark energy in the Voltron Universe.
Voltron Force (TV series)
Haggarium is the essence of Haggar and was harness by Maahox from the Hagger Quasar. [1] Haggarium is now used in all of the new Robeasts, also it can power up machines and weapons. Haggarium can drain the mystic energy that powers the Voltron Lions, the only thing that can combat it is Vince.
Gallery
Trivia
It is possible that Haggar died prior to [2].
Haggarium is like an anti-Voltron energy source.
References
Ad blocker interference detected!
Wikia is a free-to-use site that makes money from advertising. We have a modified experience for viewers using ad blockers

Wikia is not accessible if you've made further modifications. Remove the custom ad blocker rule(s) and the page will load as expected.