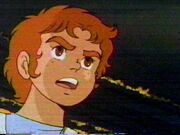 Bandor is prince of Planet Pollux and brother to Princess Romelle and Prince Avok.
Voltron: Defender of the Universe Continuity
Voice actor: Neil Ross
Prince and co-ruler of planet Pollux, along with his older sister, Romelle. Bandor is also the youngest brother of Romelle and Avok, being the youngest son of King Coba. 
Ad blocker interference detected!
Wikia is a free-to-use site that makes money from advertising. We have a modified experience for viewers using ad blockers

Wikia is not accessible if you've made further modifications. Remove the custom ad blocker rule(s) and the page will load as expected.